If you're new to running, you may be a bit overwhelmed by all the gear and language that gets thrown around by the more experienced runners. Do you you really need everything that they talk about, or is it OK to start out with a few basics? This blog will hopefully help you understand what you truly need when you're just getting started and what you can (or cannot) add as you tackle more miles.
Essential Items
First, let's dive into the necessary items. All you really need is a pair of good running shoes, something comfortable to wear while you run and, for the ladies, a good sports bra. Seriously, that's it. Everything else is gravy!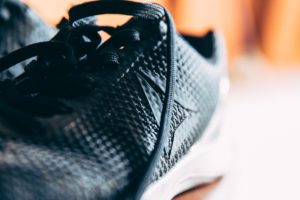 Finding a perfect running shoe can be overwhelming on its own as there are so many brands to choose from. One of the best ways to get the right sneaker for you is to visit a local running store such as Gazelle Sports and have them watch you run on a treadmill and examine your walk/stride.They should be able to help you pick the right shoe for you and your personal needs. Running in the old sneakers you have in your closet is probably not the best idea, and could lead to injury, so take the time to get some advice from the experts. You won't regret it!
Once you have your shoes picked out, look for some basic running apparel. You'll need a shirt or two, preferably made of good wicking material, as that will help pull the sweat away from your body and will dry faster than cotton. But, if you're just starting, feel free to wear what you have in your closet. You'll also need running shorts, pants, or tights if you like. Local discount stores such as TJ Maxx have great affordable on trend options to choose from.
A good sports bra is a must for women and recommend getting a good one. Don't skimp on your sports bra! If you're not comfortable while running there is no way you will stick to it.
If you are planning to work into distance running, then once you start to hit those high miles then you may need Body Glide to help reduce chafing. (You can also use Vaseline as well.)
SUPER IMPORTANT – You'll also need a water bottle if you're going to run more than 4 or 5 miles. In the summer that distance will probably drop to around 3 miles, but that will depend on each person's biology. Just remember that it's always better to have too much water with you than not enough. To start, feel free to carry a bottle of water you can get at any grocery store. As you run more and farther, you can invest in a better bottle at that time. QUICK TIP – If you know your route, hide bottles throughout the course so you don't have it carry it. This is especially helpful in warm weather so you will always have a supply of water on those hot days.
Helpful Gear 
There is so much gear that can be helpful to runners. Below is a breakdown of some things that are helpful, but not absolutely necessary, especially for the beginning runner as you don't want to break the bank.
A running watch can help you know your pace, keep track of your distance and encourage you to run faster.  Watches can range from a simple Timex 1440, costing around $20, to a several-hundred dollar Garmin with GPS and automatic splits. If you truly want to get faster then you will need a watch so you can measure your pace and progress.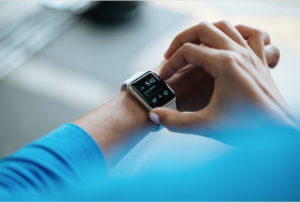 A smartphone loaded with a few running apps can also be a great help. You can even use your smartphone in place of a watch. Any standard smartphone will work, and you will probably want to buy an armband or running belt to hold it while you run.
Now that you have your smartphone ready to hit the road with you, you'll need an app or two. If you're doing a couch to 5k program (C25K), definitely should download a C25K app (search apple or android store) or check out programs by Jeff Galloway or Hal Higdon. You may also be interested in RunKeeper, Endomondo or MapMyRun to help with tracking your speed, distance and progress.
If you're already running with a smartphone, load it up with good music or a podcast. Running with some good, upbeat music can really help your pace and give you that extra edge to keep on going.
Another item you will need as you run longer and is VERY IMPORTANT is some sort of fuel for your body. You are looking for a simple carbohydrate that your system can easily absorb to keep you fueled on your longer runs. You can try energy gels such as GU or Honey Stinger packets, energy chews like Shot Bloks or even candy like jellybeans or gummy bears or a more healthy option such as dried fruit and nuts.
One last piece of gear that can be helpful as you continue running: a foam roller. A foam roller is a  tube that helps you massage and stretch your muscles after you run, and it helps to break up the lactic acid in your muscles as well. You don't run with your foam roller, but rather use it after you run to help your body recover faster.
We hope these tips are helpful and happy training!