After running Seaway Run this past June, I knew I wanted to be involved in the race in some capacity. I wanted to be a pacer or help advertise and spread the word for this run that I have been missing out on all these years.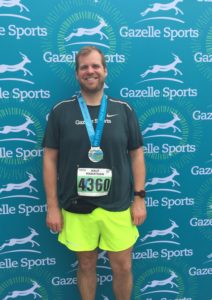 I wasn't exactly sure how I would get involved, but when I saw this ambassador post come across my news feed, I knew I wanted to apply.
I am an avid runner who likes to participate in races, mostly half marathons, and I enjoy collecting the finisher medals. I like to have fun, be active, and I am not afraid to approach people outside my circle of friends and strike up a conversation. Helping people reach their goals and aspirations in running races is a passion of mine. I would make a great Mercy Health Seaway Run Ambassador because I have nothing but good things to say about the race. It is well organized with great view, aid stations, volunteers, and quality medals. During Gazelle Sports Run Camp, I refer several runners to participate in my favorite races. Last year being my first year running Seaway, I will definitely be advertising this year, as it's now one of my favorite West Michigan races. I have a passion for running, maintaining a healthy lifestyle, and participating in well organized races. I am a devoted and outgoing individual that loves to support the running community.
I have several different networks of people who I can spread the word about Mercy Health Seaway Run. I am active on Facebook, Snapchat, and recently Instagram, where I share my running journey. I work in a department of over 150 people who are constantly asking me questions about running, what races I am training for, and who I run with. I am also a Priority Health Champion and I see some great opportunity within this 750-person closed group for networking. Finally, I am a Team Leader for the Gazelle Sports Run Camp and I have the privilege to meet many new people and tell them about the many races I have done and suggest great races like the Mercy Health Seaway Run.
Have you ever set some really high expectations for one of your races? Like almost unattainable expectations? I know I have! In the past, during the days leading up to my race, I would convince myself that if I did not meet or beat my expectation, then I...
read more