Pacers
GAZELLE Pacers, sponsored by Gazelle Sports, will be available for the  Half Marathon to pace at 7:00, 7:30, 8:00, 8:30, 9:00, 9:30, 10:00, 10:30, 11:00 and 12:00 minutes per mile. If you'd like to run the Half Marathon with a pacer, look for them on race day in the start area near the pace per minute signs, wearing brightly colored GAZELLE Pacer shirts. Start with your Official Pacer and keep them in sight to throughout the race to hit your desired finish time.
Introducing our 2019 Half Marathon Pacers 
7:00 Pacers
Chris Gregory
I have been running marathons for 15 years & also race triathlons/duathlons for some multi-sport fun. Pace leading is very exciting & a fun way to participate in events, while motivating & meeting new runners, as they reach new limits of their racing ability – whether it be a PR, debut marathon/half-marathon or a BQ.
My pacing career began in 2008 & is quite extensive, which includes being an official pace leader for 61 marathons & 30+ half-marathons (including River Bank 25k). I raced for Michelob Ultra Runners from 2010-2016 as a sponsored elite runner. During that time, I ran my 2:37:32 PR at Indy Monumental in 2010, along with 2:39:08 & 2:39:54 during those years. My marathon total is now at 135, including 67 sub-3:00 finishes. I've been fortunate to pace lead Grand Rapids (2:59 team) for 10 consecutive years & Chicago Marathon (3:00 team) for 8 straight years. I have been sponsored by Team StellaFly in Grand Rapids from 2016 to present, which is race photography/social media. My favorite triathlon distance is the Olympic event (1.5k swim, 40k bike, 10k run) & really dig swim-run races! And, yes – I did one Ironman at 2008 Wisconsin, along with 7 half-irons – no more for me. I really enjoy pace leading to help other runners reach their goals – it is always a rewarding & fulfilling experience!
Have a great race at Seaway & we hope you enjoy this awesome event! 🙂
Ben Semyen
Running found me a few years after college, and we quickly became amazing friends. I found that through running I could challenge myself, get frustration out, improve my health, be part of a larger community, and so much more. I remember in some of my earlier events being really impressed with pacer. That they willing to run the same event I was to help others reach their goal. As my running improved I found pacing to be an amazing way to participate in events while giving back to the running community. I've raced Seaway a few times. Both back when it was one of few 15k's and when it added the half-marathon. I'm excited for the opportunity to head back and help some runners accomplish their goals. I look forward to a fun 13.1 mile bonding session.
7:30 Pacers
Aaron Velting
I truly love all things active and adventure! From running, biking, swimming, playing with my kiddos, hiking, or hitting the trails.
You'll find me training year round for marathon, triathlon and trail racing. I am passionate about giving back to my community in ways that use my gifts and talents. You'll find me actively involved in West Michigan my team triumph, coaching the Grand Rapids Dirt Dawgs kid mountain bikers, Cannonsburg Kids programs, pace leading races, and involved in a local homeless shelter serving on a weekly basis, of course…when not cheering on my kiddos in their activities. I am blessed to spend every day as a personal trainer at a local gym. You'll find me leading group exercise classes and coaching individuals to lead healthier, functional lives every day!
I love encouraging others and watching others find the inner strength to accomplish goals. This is why pacing is truly a gift for me.
My passions are giving back, encouraging others…and endurance athletics. Pacing is just that! I cannot wait to see you at that start line!
Steven Phillips
Bio coming soon! 
8:00 Pacers
Mary Hunter
I've never considered myself much of a runner. Growing up, I was a swimmer and a rower and running was always the torture that coach assigned you for cross training. Little did I know that I would be bit by the running bug in 2012. The rest is history. Since 2012, I have completed close to 100 races in distances that range from 5ks to marathons to 200 mile relays. I have been the novice runner, the mother runner, the slow runner, the fast runner, the injured runner, the wise runner, the hopeless runner, AND the hopeful runner. That girl from pre-2012 would never recognize the runner I have become. Seven marathons, including the Boston Marathon and the Chicago Marathon. Nine 200 mile relays. Ten 1/2 marathons (and as a pacer for 3 of them). Four 5/3 River Bank Runs. And fistfuls of 5ks and 10ks to boot. I want to share my love for running with other runners and help others achieve their goals. I am excited to pace Seaway because there is no better feeling than when another runner thanks you for pacing them and helping them PR. I look forward to helping Seaway runners reach their goal pace come June 22nd!!
Brandy Shumaker
Bio coming soon! 
8:30 Pacers
Scott Charles
I started running over 10 year's ago and have been pacing various races for the last 5-6 years. I believe this is my 4th year pacing for the Seaway Half! I love pacing the Seaway Half, such a great course, organized by a great group of people, for a lot of great athletes! Also, who doesn't love a great after party!! I'm looking forward to helping you meet your goal!!
Matt Lane
I love to run! It's SO good for my mind, body and soul! Since 2012 I've run 6 marathons and a whole bunch of half marathons and 25ks. I'm currently training for two marathons this May, one in California and then Bayshore. In California I'll be pacing my sister for her first marathon and then a friend for Bayshore. I love to pace! It's so energizing to me to see people do things they have never done before or to help them reach a new time goal. I paced Seaway last year and can't wait to do it again this year! I know we'll have a great group cross the finish line with us!
Danielle Nye
I've been running since middle school cross country. Running has been a constant for most of my life, but it was just in the last few years that I've raced more and set goals for myself. After finding a wonderful group of running friends I decided I wanted to run Boston and PR all my distances. Thankfully with lots of encouragement and help along the way I've been able to achieve my biggest running goals! Now I'm excited to spend this year pacing races and giving back to the running community. I know how valuable it is to have someone believe in you and encourage you all the way to the finish line. I hope I can be that person for as many people as possible this year at Seaway!
9:00 Pacers
Jack Mueller
After years of coaching and officiating on the soccer field, my wife challenged me to run the Seaway Run 5K with her. It would be my first…and I haven't stopped running since. I came to running as a newbie and found a community of experienced runners and groups like Run Muskegon who were willing to help me learn the sport. Five years later my wife and I train a lot, run 20-25 races a year and compete in Triathlons.
I ran my first long distance race with the aid of pacers at the Grand Rapids Bridge Run. It was a high energy group whose focus was getting our small group of runners across the finish line. It made a big difference in my effort that day. Now with experience, I am anxious to assume that responsibility. Pacing the two hour group for the Seaway Run 1/2 marathon gives me the chance to participate in my hometown race and help fellow runners meet their race day goals.

Thanks again for the opportunity!

Stephanie Martin 
Hi I'm Stephanie! I'm a 30-something year old mom of 3 (ages 4, 4, 2) that is usually chasing kids who are running in opposite directions… and call it my speed work!
I started running when I was in elementary school because that's when my dad started running! He turned running into a family activity and I love him for that. I've been running off and on ever since and ran my first half marathon in 2010 and first marathon in 2013. After having my kids I started running again and came back stronger than ever! I find so much joy in running and recently have enjoyed the process of chasing my full running potential. My big goal is to qualify for the Boston marathon one day!
I'm beyond excited to be pacing Seaway this year! So many people have come along side me and encouraged me in my running journey. Now having the opportunity to do that for you is a dream. Let's go sub-2!!


Amy Hayes
My name is Amy! I am 38 years old, mother of 2 boys, and ran my first 5k race in 2012. I am passionate about coaching and helping others meet their goals! I am currently training for a few spring and summer half marathons and for a 50k sometime this year! It will be my first ultra and am super excited! The Seaway Half will be the first event that I will be an official pacer for! Even though I have crewed and paced for friends, for the Seaway Half I will have an official shirt! LOL! I love it! I am excited to pace the 9:00 min/per mile racers and bring them in under 2 hrs! See y'all at the start line!
9:30 Pacers
Ryan Wasson
Hello everyone! My name is Ryan Wasson (aka Ryno). I started running about 5 years ago on a bet/challenge with my sister, who knew it would turn into a passion/obsession of mine! I love pacing, hearing all the inspiring stories of fellow runners, and getting to watch people achieve there own goals and PR's while running with us. Last summer, I accomplished my longest distance ever, a 50 mile trail Ultra. This fall, I get to attempt the Barclay Fall Classic in Frozen Head state park, Tennessee! I can't wait to see you all on race day.
Alana Matyas-Brower
Hello everyone! I'm Alana I'm looking forward to being a part of the Seaway Run pacing team!

As a seasoned runner of over a decade,  a rewarding part of running nowadays is getting people into running and watching them fall in love with the sport. I love helping them along the way by being their mentor and the cheerleader that encourages them to set new goals.  The most exciting part of the journey is watching them cross the finish line, especially when I know it is the furthest distance they've ever run.   I love hearing every runner's story and encouraging them along the way.  The half marathon is a challenging distance and I love helping runners along the way as their pacer, cheerleader, source of inspiration, comedic relief and general announcer (porta potty! water!).  I hope to see you all in June!
Michelle Snay
"I grew up as a competitive gymnast and cheerleader, and when I got to college, I was not what you would call ""active."" Thankfully, I began running in 2010 at age 24 when a coworker convinced me to sign up for a 5k. I fell in love with the race atmosphere immediately, so right after I crossed the finish line, I went home and signed up for another. Less than 3 months after that first 5k, I finished my first half marathon. Now, just over 8 years later, I have completed 49 half marathons and 19 marathons! (current as of April 2019 – lol) I guess you could say things escalated quickly.
​
One of the most significant aspects of my running life is pace leading! Nothing compares to the positivity and support around the running world, and pacing is way for me to give back to the community that has given so much to me! I've had the great pleasure and opportunity of pacing many races, and I can honestly say that the experience of being a pacer and helping others achieve their goals are some of my favorite running memories, and looking forward to making more!"
10:00 Pacers
Amanda Lacy
My name is Amanda Lacy and this summer I will celebrate 13 years of running. Running has taken me on a journey I never expected and has become a BIG part of my life. I'm amazed at what my mind and body can do when I need to dig deep to finish a run or a race. I especially love the atmosphere at a race, everyone has a personal goal, but is also cheering and supporting the runner right next to them.
I have also been a half marathon pacer for the last 6 years. I enjoy pacing because I want to help other runners reach their goal and get them to the finish line. I love to encourage, support, and keep runners focused when the race may become difficult. Race day is about the runner and I consider it an honor and a privilege to share their race day experience with them!
I'm looking forward to pacing a run with a view this summer!
Dave Oosterman
My first pacing opportunity came at the Seaway 1/2 Marathon in 2014. I loved it! Spending time on a beautiful course on a summer day, doing what I enjoy, and helping others to hit their goals was a riot. I've paced many races since then, at a lot of different places, but Seaway is one I love to do year after year. Although I've completed several marathons, numerous triathlons including Ironman Wisconsin in 2017, and countless other races, pacing, coaching, and leading exercise classes is where my passion lies. I'm excited to come back for the 2019 edition of the 13.1!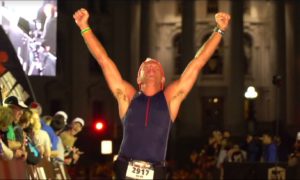 Amy Cribbins
Bio coming soon!
10:30 Pacers
Rich Cater
I started running again 3 years ago starting with a 5K a month for the year by the end of the year I was winning in my age group and was fully hooked ran all 10K's the next year and now doing all half marathons this year with a couple duathlons and plan to run my first full marathon in August. I owe it all to my run family therefore try to give back whenever possible by pacing and volunteering. Looking forward to meeting all you 10:30 pace runners at the starting line.
Amy Keizer
Hi runners! I'm Amy and this year I'll be celebrating 12 years of running! I've competed in everything from 5k's to full marathons, even a couple triathlons. Half marathons are my happy place and currently I'm working on at least one half marathon in all fifty United States- up to fifteen so far! I'm really looking forward to pacing Seaway Half again this year. My favorite aspect of pacing is meeting up with so many fellow runners; sharing our stories of how, through our own journeys of defeat and accomplishments, we ended up in the same place, ready to crush some big goals. Let's rock 13.1 together on the beautiful Lake Michigan coast!
Melissa Jachim
Bio coming soon! 
11:00 Pacers
Christina Fong
I am a professional musician. Music is my life, my work and my passion. Running has helped me remain fit and meet the physical demands and endurance that is required for my work as a musician. I have been running now for nearly 20 years. I have run over a dozen marathons, and numerous other 5ks, 10ks and half marathons.
To me pacing is a lot more rewarding than racing. I have been a moderately competitive runner. I will never be a fast or great runner, but I love the sport and what it has to offer. It was once important to me to meet my speed and distance goals, but now it is far more important for me to help others meet their goals.
Kelly Machiorlatti
I started running distance races in 1999 after being spurred on by a friend to do the Chicago marathon (yep—that was my first race ever). From there I kind of caught the competitive bug and began doing triathlons, duathlons and trail races to add some spice to my running fun. Though I love being a participant at events, my primary focus is for helping people achieve their goals and pacing is the perfect vehicle for me to give back to the running community. I have paced almost 20 races-mostly half marathons, 25K's and a couple of marathons. I live in Grand Rapids, MI with my two dogs and I work as a health and wellness coach. I believe exercise saves lives … and sanity, and makes a better world. Healthy body, healthy mind, happy people…better world!
Jillian Pierce
12:00 Pacers
Jennifer Bergsma
After living most of my adult life overweight, about six years ago I decided to change my unhealthy habits to healthy ones. One of those healthy habits included getting 10,000 steps a day. My sister had just started running at that time. She encouraged me to run a 5K, so I started a C25K program. I quickly discovered that I got my steps way faster by running them instead of walking them. After running my first 5K, I was hooked. Since then I have ran several 5K's, 10K's, half marathons, 25K's, relay races and one marathon. I can't image not running! It is my happy place! This will be my third pacing gig. I have paced the Gazelle Girl Half Marathon for the last two years and loved it!!! It brings me joy to help others reach their racing goals.

Amy Rempalski
You would never guess, but I used to dislike running! Little did I know that running, let alone pacing, would later become a passion. I made new friends and developed a great support system that has proven to be very beneficial, especially in the last couple years as I had been battling injuries and life challenges. I have been making a comeback and I am finding a balance between running and other passions in life. I pay this gift forward by pacing races and offering support and kind words when needed, even if it's in the form of out-of-pitch songs or corny jokes. The inspirational stories from runners also keep me going!
Seaway is a fun run and that's why I like to pace it. The course is beautiful, the folks are super nice, and there's nothing like running past Pigeon Hill on your way to the finish, and then doubling back for your well-earned beer! It takes a lot of hard work to get to the start line, so I want to help you in any way I can to get you to the finish line with a smile. I hope to see you out there!
Heather Durian
Some say that I have a bit of an extreme affinity to racing and specifically pacing. Do I use running as an excuse for socializing, and socializing as an excuse for running? Of that, I am not sure. In any event, back of the pack pace groups are my fave. So many strong, healthy people are looking to improve all aspects of their lives, through running. All you Seaway Runners who are also book lovers, I highly recommend reading Running with Raven, and any book by Adharanand Finn. As long as it is possible, I will run and enjoy all the trappings that go with it. This is my 3rd Seaway run and second time pacing it. What a beautiful race and an honor to be a part of something so great.

Key Sponsors
Seaway Run & Expo  is a community event focused on fitness, supported by Mercy Health & other partners.