Hey folks,  Andrew here – Race Director for the Mercy Health Seaway Run!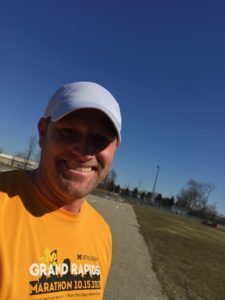 We are excited to be kicking off the 2018 racing season with a new logo. Thanks to our local marketing agency team at RCP Marketing. They worked tirelessly to make our vision come true and we could not be happier with it! We stayed true to our roots on the color scheme and the shoe – which both have been staples of the Seaway Run for many years. We hope you that you like it as much as we do!

We are about 4 months away from race day and we are happy to once again be based out of Downtown Muskegon. We have amazing beach views and flat, fast courses! If you have a chance, check out the courses this spring/summer when you're in the area to get a feel for the landscape.
A couple of updates – The 5k , 5k community walk, and half marathon course remains the same, but we have added a new dimension to our offerings. After years of having a 15k race, our committee decided it was time for a change. We are excited to introduce our 10k course. This course will follow portions of the 5k and half marathon route and then head on the Muskegon Lake bike path and in to the Nim's Neighborhood before heading back to Downtown Muskegon. You can check out the new course HERE.
With the many offerings that Seaway has, I will once again be providing a training calendar to all of you that are interested. This will be posted on our website and via social media. You will be able to download as a PDF or upload directly to your calendar via our Google calendar. This is a great way to stay on top of what you should be doing in order to properly prepare for your event. Stay tuned for those!!
As we are at the tail end of winter training some things to keep in mind:
1. Take care of your body! WATER! REST! Both of these need to be your friends. If you are training for spring races – be smart and give your body enough time to recover.
2. As the warmer temperatures approach – train the way you will race. Hydrate. Fuel (Gu packs, Honey Stingers), FOOD! You need to eat and nourish your body if you plan on continuing to be and stay active. Be smart folks!
3. Run Clubs! There are hundreds of them! Check out Facebook, ask around as there are options you might not know that are in your own back yard!
Locally – check out: Run Muskegon, Grand Haven Running Club, Holland Running Club, RunGR. SO MANY OPTIONS! Bottom line – you don't need to be alone in your training and preparation for the Seaway Run. So, get out – run – train – LOVE IT!
See you at the starting line June 23!
Andrew