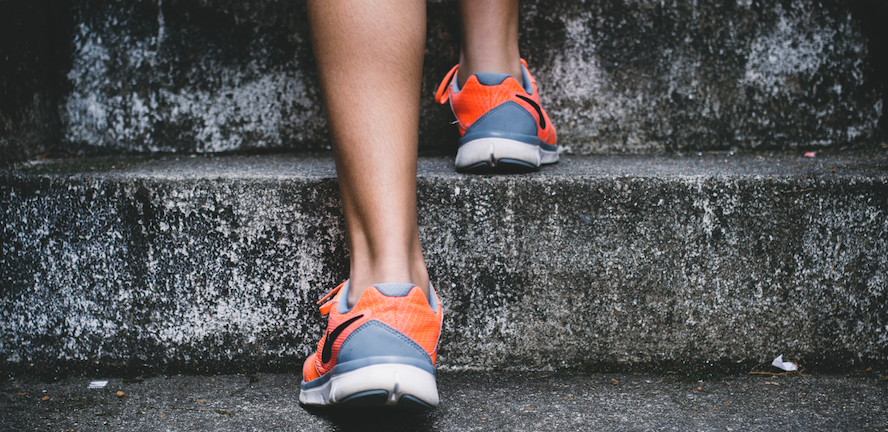 If you're runner, you know exactly how it is to want to JUST WANT TO RUN. I've been there!
When I first discovered running I was in middle school. I could out run some of the high school kids and I was pretty proud of that! I was  great at running cross country, however I was home schooled for high school and I didn't get the opportunity to run with our school team.
It wasn't until my early 30's that I rediscovered running again.  It was at that time that I wanted to JUST RUN and ONLY RUN. I was so excited and wanted to run every trail and road here in GR. It was exciting to try new routes and to repeat some of the same ones trying to beat my previous times.
I quickly realized that I needed to incorporate cross training to my training as I ran into some minor injuries.  Not only to avoid injury but to keep interest in training (I have to admit I got bored rather quickly from just running). So I got a bike!
I didn't know much about bikes at that time so my first one cost $150, but it did its job. I would run and bike afterwards to train and I quickly signed up for my first duathlon. I really enjoy biking and I've tried different styles over the years such as mountain biking, gravel biking, cycle cross, and fat biking.  It was the best decision I made! It was not only great for cross training, but also it was a lot of fun! Biking is still my preferred cross training activity and I'm happy to have met great friends along the way!
If you're looking for something besides from running, check out biking! You won't regret it!
PS: I suggest checking out a local bike shop to help. My go to shop is Central District Cyclery, which is where I went for my bikes after that hideous $150 bike. These guys know their stuff, and can help in choosing what you want based on what you would like to do.
Also, West Michigan Mountain Biking Alliance is a great community of bikers that raise funds and maintain local trails. It is also a great resource for trail maps and trail conditions.
Have fun in your search and remember, life is a beautiful ride!
-Ambassador Maribel Villasenor